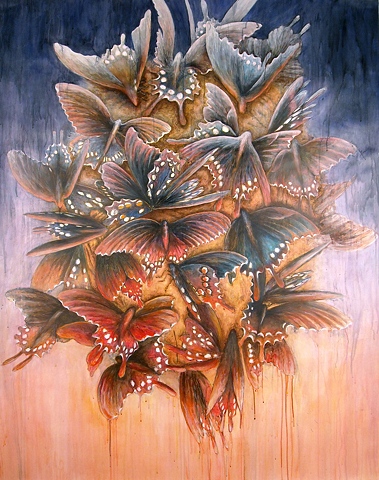 SUSAN S ROBERTS


Artist Statement
My paintings tell stories that interpret nature and its processes. They act as windows through which the viewer can experience close-up microcosms of flowers, roots or moss, as well as macro views of worlds enveloped in deep space. As an artist, I investigate the sublime beauty of nature and render images that embody both delight and uncertainty.
I am interested in how color, depth and the fluid qualities of paint can communicate about growth, change and persistence. When I work with drippy water and paint, I don't want to control it all. I embrace the effects of gravity and fluidity. My paintings reflect freedom and an unfettered, clear and lucid acceptance of the medium and its inherent qualities. I am interested in how forms interact with the space between them and around them and how both realistic and abstract images interpret inner and outer experiences.
The suggestion of worn maps and stained canvas appeals to my aesthetic of the old and the used. These are hints that suggest non-specific places and time in my work. The skies are like a resting place, a place to relax and think. These clues impart information to the viewer and suggest the delicate balance of nature as a theme I continue to explore.
I intend for my work to generate an attraction to sensual surfaces of color and paint, and a sense of curiosity. Personal memories and experiences play a great role in my choice of subject matter and how I interpret it in paintings. I call upon my continuing interest in the beautiful and dark side of nature as a mirror of society. It is my intention that the viewer will experience a freedom of perception and understanding through my art.